Where Can Modular Railings Systems Be Used
Over the river and through the woods are areas where Texans young and old enjoy frequenting the miles of beautiful walking and bike paths of our state. Modular Railings Systems can be installed to keep pedestrian safe as they enjoy a nice walk, jog, or bike ride. In many parks and nature walk areas hazards can be plentiful. Modular Railing Systems have solutions that can be used on over passes within the highway systems, near rivers that maybe close to walk and bike paths, and drop off points on paths that may lead to pedestrian injuries.
Why Use Modular Railing Systems
One of the most enjoyable activities to do in any community is getting out and appreciating the natural beauty of the nearby parks and trails. Safety in these environments is an important factor in the enjoyment of your time out with family and friends. Modular Railing Systems takes these environmental hazards opportunities very seriously and makes it goal to provide compliant and easily installed systems for these areas nationwide. The flexibility our system provides work great on even the most uneven terrain.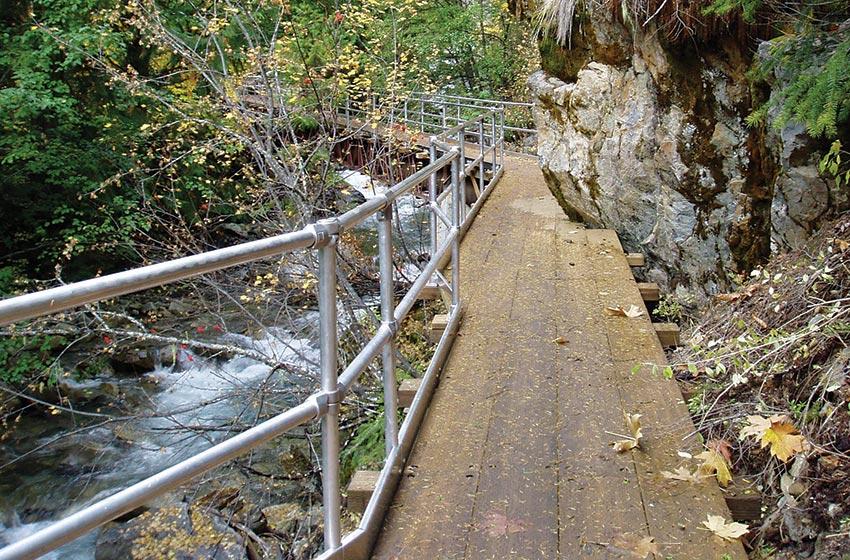 Modular Railing Systems wants to give communities the ability to partner with great solutions designed in house as well as easily erected without the need for highly skilled welders saving money and time during the process of implementation.
Pedestrian and Bike Path Photos
---